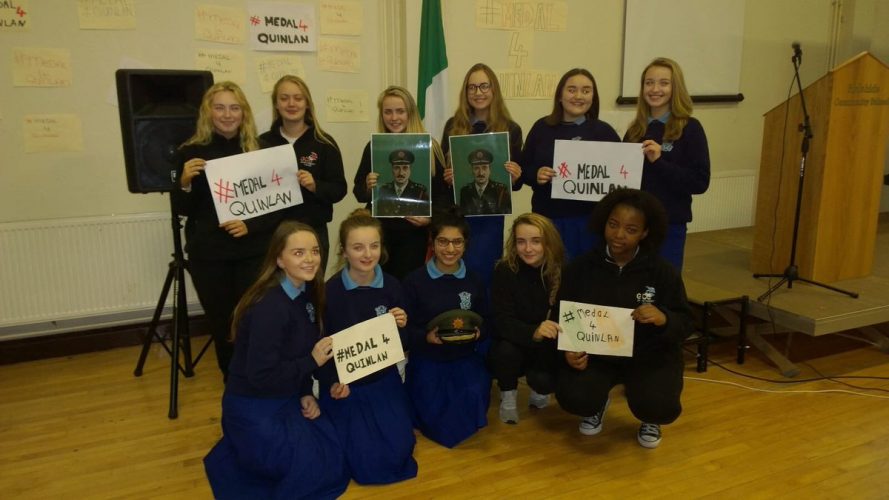 If you ever doubted the power of young people to show empathy read on!  In October 2016 a group of students from Galway Community College and Malahide Community School were moved when they learned of the 56 year long campaign by a group of Irish soldiers for recognition for their acts of bravery which serving with the United Nations in Jadotville in the Congo in 1961.
Despite being a peace keeping force the 155 men of "A" Company were forced to defend themselves against an enemy force of 3,000.  Thanks to the military genius of the late Col.Pat Quinlan all of the men survived.
Sadly due to a number of factors the men were not recognised for their actions and were called "cowards" by the government and the military.
"SOME MIGHT SAY THAT EMPATHY IS LACKING IN THE YOUNGER GENERATION BUT THE STUDENTS FROM GALWAY AND DUBLIN PROVED OTHERWISE WHEN THEY MADE HISTORY BY CHANGING THE MIND OF A GOVERNMENT"
In a determined campaign the team at Inspiring You,  teachers and students from both schools worked together to help these men get the recognition and apology they deserved.  They wrote letters to politicians, contacted local and national media, got support from the general public, invited some of the soldiers and relatives to their schools to tell their story.  The students even helped to draft a Leaders' question to former Taoiseach Enda Kenny which was presented by Galway West TD, Noel Grealish.
After a lot of hard work the former Taoiseach Enda Kenny met with some representatives from "A" Company, and the schools involved in the #MedalsforJadotville campaign and on the 13th of June on his last day in office he announced that a special medal recognising the valour of the Irish soldiers would be awarded after 56 years of inaction.
History was made when the medals were presented to the surviving veterans and their families in Custume Barracks, Athlone on Dec. 2nd 2017.
Hopefully the late Col. Pat Quinlan will be awarded the Medal for Military Gallantry with Honours for his bravery and decisive leadership in the field of battle.
This one event shows the power of young people when effectively channelled.  Hopefully this is the first of many positive actions we will help inspire and support.
Please feel free to send us your ideas for other actions, challenges and fun activities.
#Medal4Quinlan #IYIRL #Inspiringyouirl